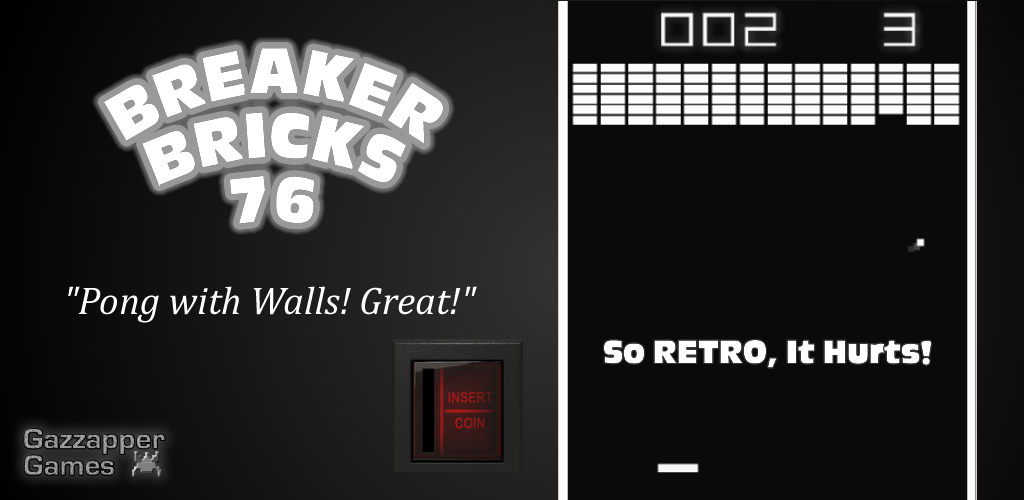 Breaker Bricks 1976 - Breakout Remake
This super brick breaker is a retro classic arcade game that comes complete with color brick cellophane overlay mode. Play with mono or color bricks. Break out the quarters and play this arcade classic. Play one of the best retro games.

Use finger to swipe move paddle / bat break bricks out of the walls and beat your high score. Classic free arcade retro brick breaker game. Bounce and smash all the colored bricks to reach the next level. Arcade Classic.

Imagine it's the mid '70s - You are in your favorite local Arcade and have a pocket full of quarters...You see a new arcade game just released and you gotta play it! You take out a quarter and pop it in the slot!

★ Retro arcade screen display like a 1970s video game
★ Two Game Modes: Classic and Progressive (blocks move down!)
★ 8 bit soothing sounds
★ Color plastic overlay mode
★ Many levels to defeat
★ Increasing difficulty and addictive family fun
★ Game for all ages and skill levels
★ Write permission for saving Hi Score (only)

If you love old games and the classics you will love this retro brick breaker game. Bounce your way to a high score!
Available on